blog home Personal Injury What You Can Do to Prevent a Tire Blowout
What You Can Do to Prevent a Tire Blowout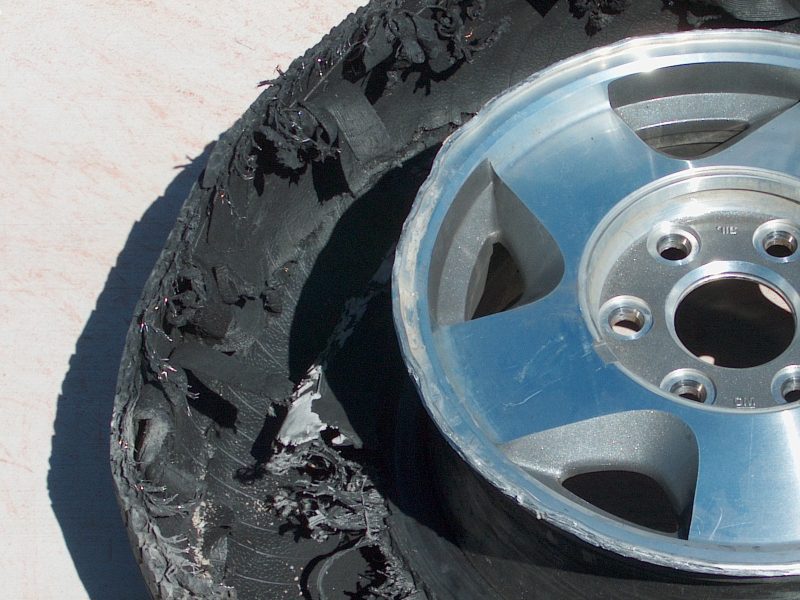 A tire blowout can be more than a costly annoyance – it can cause a serious or fatal accident. Preventing a tire blowout is a vital aspect of keeping your vehicle safe for you and your passengers. To help avoid the risk of a tire blowout, watch for the signals of a failing tire:
Look for tire wear. Every type of tire is rated for a specific number of miles, and once you pass that point, the reduced tread leaves the tires far more likely to fail, causing a blowout. One DIY method to check tire wear is to place a penny upside down in the tread. If the top of Lincoln's head is visible, replace your tires.
Uneven tread wear: When the tire tread is unevenly worn, it may be caused by wrongly inflated tires, wheel alignment, or suspension issues that should be corrected immediately.
Vibration: If you feel your vehicle vibrating at certain speeds, it may indicate your tires are faulty, defective, worn, or unevenly inflated.
Bulges, blisters: Any bulges or blisters on a tire indicate it is damaged and at risk of a blowout, and the tire should be replaced immediately.
Keeping Tires Safe for Travel
To ensure your tires are safe, check the pressure often. Purchase a tire pressure gauge or ask your mechanic or gas station personnel to check the pressure. Always buy good quality tires, and never drive on worn or damaged tires with poor tread. In rain or when driving at high speeds on the Orange County freeways, tires with little tread are unable to grip the road correctly, putting you and your passengers at risk of being involved in a car accident.
Faulty Tires and Injury Cases
In some cases, tires have been found to be defective. A tire manufacturer is required to produce a product that is safe for consumers. The USTMA (U.S. Tire Manufacturers Association) outlines the regulations tire manufacturers are required to follow. Manufacturers must adhere to many regulations, and some tires have been the subject to a safety recall.
The TREAD Act (Transportation Recall Enhancement, Accountability and Documentation) Act requires all tire manufacturers to report defects, along with injuries and deaths related to their products. Manufacturers are required to notify consumers of recalled tires. All tires sold in the USA must be branded with a Department of Transportation Code to identify where the tire was manufactured, along with the week and year of production.
Faulty Tires and Blowouts: Manufacturer Liability
If your tires failed due to a manufacturing defect, you have the right to pursue compensation through a product liability claim. These claims are typically complex, requiring extensive documentation. It is advised that you are represented by a qualified and experienced product liability attorney in Orange County if you were involved in a serious accident due to a faulty tire blowout. The tire may or may not have been recalled, but any manufacturing facility may produce a defective product. The condition of the tire must be evaluated by a professional to determine the cause of the blowout.
Connect with HN Injury Lawyers for a Free Case Consultation
If you or a loved one was injured in an accident after a tire blowout, we urge you to contact our firm for a free case consultation. Our legal team is made up of some of the OCs most respected professionals in personal injury law. Attorney Hess is a member of the American Board of Trial Advocates, a member of the elite Multi-Million Dollar Advocates Forum, listed as National Trial Lawyers Top 40 under 40 Civil Plaintiff, and a member of the Consumer Attorneys Association of Los Angeles. Attorney Nghiem is a member of the National Association of Consumer Advocates and the Consumers Attorneys Association of Los Angeles. We have the experience and knowledge you need when filing a product liability claim for faulty or defective tires.
Call us at (657) 333-5726 for a free case consultation.
Categories