blog home Dog Bites Do "Beware of Dog" Signs Affect Dog Bite Liability in CA?
Do "Beware of Dog" Signs Affect Dog Bite Liability in CA?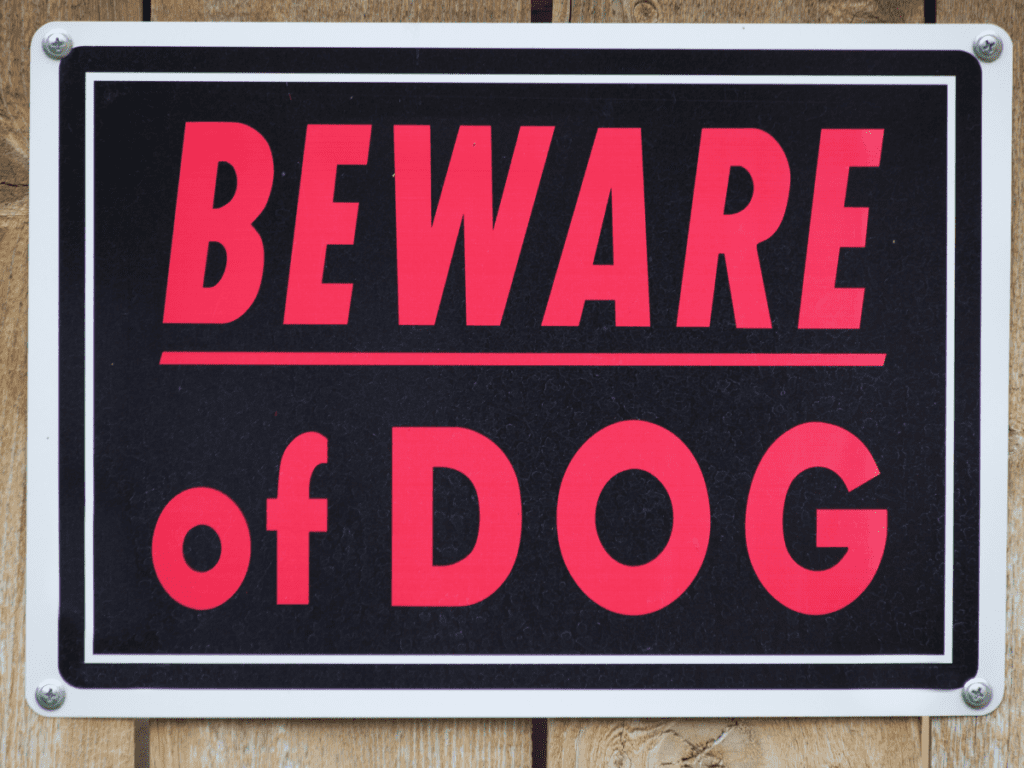 California leads the nation in dog bites. According to the American Veterinary Medical Association, approximately 560,000 Californians are bitten by dogs every year, and around 112,000 of these victims seek medical care for their injuries. 
It's common for dog owners to post "Beware of Dog!" signs on their property. These signs are often meant to deter trespassers, and some property owners believe a sign can relieve them of liability if their dog bites someone. But in California, owners are liable for the harm their animal causes to anyone who is legally in a public or private place, regardless of the kind of signage the owner displays.
California Has Strict Liability Dog Bite Laws
When it comes to dog bites, California is a strict liability state. If you or your loved one was out in public, or if you were visiting someone's property when the attack occurred, then you have the right to seek monetary damages against the dog's owner.
In several other states, the victim of a dog bite is required to demonstrate that the plaintiff was aware that their dog had aggressive tendencies before they can proceed with a lawsuit. This is sometimes referred to as the "one-bite" rule.
Dog owners in California are required to properly train their pets and keep dogs safely restrained on their property. When a dog attacks a person, it's often the result of poor treatment or mishandling by the dog's owner. The following types of owner behavior make dogs more likely to attack people:
Failure to properly train dogs
Physically abusing dogs
Inhumane treatment
Not providing enough food and water
Training the animal to be a guard dog
Leaving dogs unattended for long periods of time
Training them to fight with other dogs
An Owner's Sign Will Not Reduce Their Liability
Even though dog bite victims in California are not required to prove that the dog had a history of violence, a "Beware of Dog!" sign might make it easier for the victim to pursue damages. These signs are a clear indication that the owner was aware that they had a dangerous animal on their property, and so the victim's lawyer can argue that the owner should have done more to prevent the attack.
If a dangerous dog escapes from its owner's property and bites someone, the "Beware of Dog!" sign actually highlights the owner's negligence. And the sign won't reduce the owner's liability if the victim had a legitimate reason for being on the property, such as a mail carrier or a meter reader. Instead of a "Beware of Dog!" sign, it would be better for owners to post a sign that reads: "No Trespassing" or "Dog on Property."
How Your Santa Ana Injury Attorney Can Help After a Dog Bites
People who experience a dog attack are likely to suffer serious physical and emotional harm. The owner's insurance company may offer you a small settlement, but it probably won't be enough to cover your medical expenses and other costs caused by the attack. The Santa Ana dog bite lawyers at HN Injury Lawyers will investigate the attack, review the victim's medical records, and file a claim that includes the following types of damages:
Medical bills
Ambulance costs
Emotional counseling
Lost wages
Emergency room care
Scarring
Reconstructive surgery
Pain and suffering
Wrongful death
The Emotional Impact of a Dog Attack
Sadly, most dog bite victims are children. Children are particularly vulnerable to these attacks due to their small size, and it's more difficult for a child to fend off an attacking animal. At any age, the emotional effects of a dog bite can be devastating, often causing residual harm that lasts for years to come.
You may wish to request a referral for emotional counseling from the victim's physician. Long-term psychological harm suffered by children after a dog bite may include:
Trauma
Crying
Difficulty sleeping
Clinging to parents
Fear of dogs
Fear of being alone
Anxiety
Was Someone You Love Attacked by a Dog?
HN Injury Lawyers is here to help you get the resources you need to recover after an accident. Our Santa Ana injury attorneys are committed to assisting people who have been harmed by the negligent actions of others. We believe that the person who hurt you should have to pay for it.
Our Santa Ana personal injury lawyers have been recognized for outstanding achievement and service to our clients by Super Lawyers, the National Trail Lawyers, and the Multi-Million Dollar Advocates Forum. Our partners, Edward W. Hess, Jr. and Phillip B. Nghiem, have won over $100 million for our clients.
Contact us today at (657) 333-5726 for a FREE consultation. We never stop fighting for our clients.
Categories