blog home Amazon Delivery Accidents How Amazon Handles Auto Insurance for Drivers
How Amazon Handles Auto Insurance for Drivers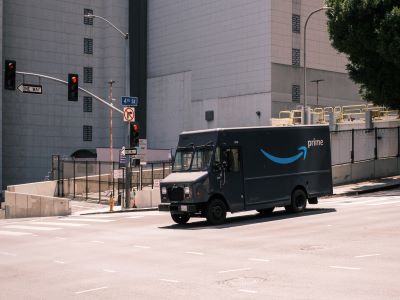 When an Amazon driver causes an accident, responsibility for injuries and damages will depend on the circumstances. Some Amazon drivers use their own vehicles, in which case the company is only liable if the driver was on the clock at the time of the crash. A car accident claim involving an Amazon driver can be complicated. Your best chance of recovering full compensation is to have an experienced personal injury attorney by your side.
What Are Amazon's Policies Regarding Auto Accidents and Insurance?
Amazon has thousands of vehicles on the road delivering merchandise for the company. They include:
Large Amazon semi-trucks
Amazon delivery vans
Personal vehicles driven by Amazon Flex drivers
Amazon policies regarding accidents and insurance vary, depending on the circumstances and what type of vehicle was involved in the crash.
If an Amazon Flex driver caused the accident, damages should be covered by the company's commercial auto liability insurance, provided the driver was on duty when the wreck occurred. Amazon liability policy limits for bodily injury are up to $1 million per accident.
If an Amazon truck or delivery van driver caused the crash, liability may not be as cut and dried. Amazon works with a large network of companies to get its packages delivered. A third-party shipping company will likely be liable for damages caused by one of its truck or van drivers. Although shipping partners are required to carry insurance to work with Amazon, insurance coverage can vary from one third-party shipping company to another.
What Requirements Does Amazon Have for Its Drivers?
Amazon offers two-hour delivery blocks to Flex drivers. To qualify, a driver must be at least age 21, own his or her own vehicle, and have a valid driver's license and proof of auto insurance. Drivers must also have clean driving records. Minimum policy limits for drivers' personal auto insurance are determined by state laws. When an off-duty Amazon Flex driver causes an accident, the driver's personal auto insurance policy applies.
What Are the Insurance Requirements in the State of California?
California has minimum liability insurance requirements for private passenger vehicles, as stated by the Department of Motor Vehicles (DMV). Comprehensive and/or collision insurance does not meet the state's financial responsibility requirements. Individuals, including Amazon Flex drivers, are required to carry auto liability coverage in the minimum amounts of:
$15,000 for injury or death to one person
$30,000 for injury or death to more than one person
$5,000 for property damage
What Steps Should You Take If You Were Injured in a Wreck with an Amazon Vehicle?
If you were involved in a collision with an Amazon driver, take the following steps to help maximize your compensation:
Call the police. A report made by the investigating officer can help establish liability for the crash.
If you are able, take photos of the accident scene with your cell phone, showing the damage and the relative positions of the vehicles.
Get contact and insurance information from the Amazon driver and find out if he or she was on duty at the time of the accident.
Get names and contact information for any eyewitnesses to the crash.
Find out if any dashcam or surveillance camera footage is available.
Get medical attention as soon as possible – to get the treatment you need and to establish a record of your injuries.
Contact an experienced personal injury lawyer to help you pursue compensation.
Our Santa Ana personal injury attorneys at HN Injury Lawyers have combined experience of nearly 50 years. We have been awarded membership in the Multi-Million Dollar Advocates Forum and named among the National Trial Lawyers Top 40 Under 40. If you have been hurt in a crash caused by an Amazon driver, contact us at (657) 333-5726 to schedule a free consultation.
Categories