blog home Bicycle Accident How Car Insurance Factors into Your Bicycle Accident Claim
How Car Insurance Factors into Your Bicycle Accident Claim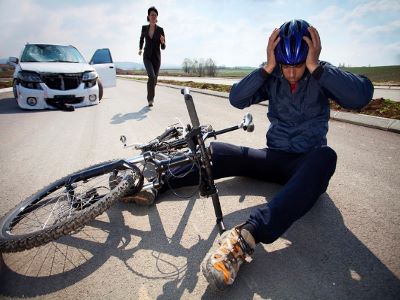 With more bicyclists sharing the road today, bicycle accidents are becoming more common. Car insurance may cover a bike wreck if a motor vehicle driver caused the accident. If your bike crash is not covered by car insurance, you may have other options, depending on where and how it occurred.
Who Is Responsible When a Car and a Bicycle Collide?
In a collision involving a bicycle and a motor vehicle, the person who caused the accident is responsible for resulting injuries. If a driver caused the crash through negligence, that driver's liability auto insurance coverage should apply. On the other hand, if the bicyclist was at fault for the crash, the driver cannot be held liable and his or her auto insurance will not cover the bicyclist's injuries.
How Can Negligent Drivers Cause Bicycle Accidents?
Negligent drivers can cause serious bicycle accidents in many ways. For example, a driver could cause a collision with a bicyclist by:
Driving distracted
Speeding
Driving drug or alcohol-impaired
Running a red light or stop sign
Following too closely
Failing to yield the right-of-way to a cyclist
Will Other Car Insurance Cover a Bicycle Accident Claim?
Despite criminal penalties, some drivers still hit and run. If you have been hit by or hurt in a bicycle crash caused by a driver who left the scene of the accident, you may be covered under your own uninsured motorist insurance. This coverage, which is designed to protect people involved in accidents caused by uninsured motorists, also kicks in for hit and run accidents.
Your own underinsured motorist coverage may provide additional protection if the driver who caused your bicycle accident does not have enough insurance to cover your damages.
Medical payments coverage under your own auto insurance policy could help cover your medical costs for serious bicycle accident injuries.
What Are Your Options If Car Insurance Won't Cover You or Your Claim Is Denied?
If your bicycle accident is not covered by car insurance, or the coverage is not enough, you may use your personal health insurance to cover your medical needs. It is common for injured people to rely on personal health insurance to cover medical costs while an injury claim is pending.
If your bicycle accident occurred on someone else's property, you may have a premises liability claim against the property owner. You can only prevail in this type of claim if your injuries were caused by a hazard existing on the property and the owner was aware of the hazard but failed to take action to remedy it.
If your bicycle accident should have been covered by insurance but the claim was denied, you may be entitled to bring a legal action for bad faith against the insurance company in civil court.
What Can You Do to Maximize Your Bicycle Accident Claim?
After a bicycle crash caused by someone else's negligence, if you are able, gather as much information as possible at the scene of the accident. Take pictures with your cell phone and get names and contact information for any eyewitnesses. Get medical attention right away, to ensure no hidden injuries go undiagnosed, to get the treatment you need, and to establish a record of your injuries. Speak with an experienced Santa Ana personal injury lawyer as soon as possible for your best chance of recovering the maximum compensation available.
At HN Injury Lawyers, our trial attorneys are efficient and proactive. We really get to know our clients and always do our best for them, regardless of how big or small the case. If you have been hurt in a bicycle accident, call us at (657) 333-5726 to find out how we can help.
Categories