blog home Personal Injury Spotlighting Safety When It Gets Darker
Spotlighting Safety When It Gets Darker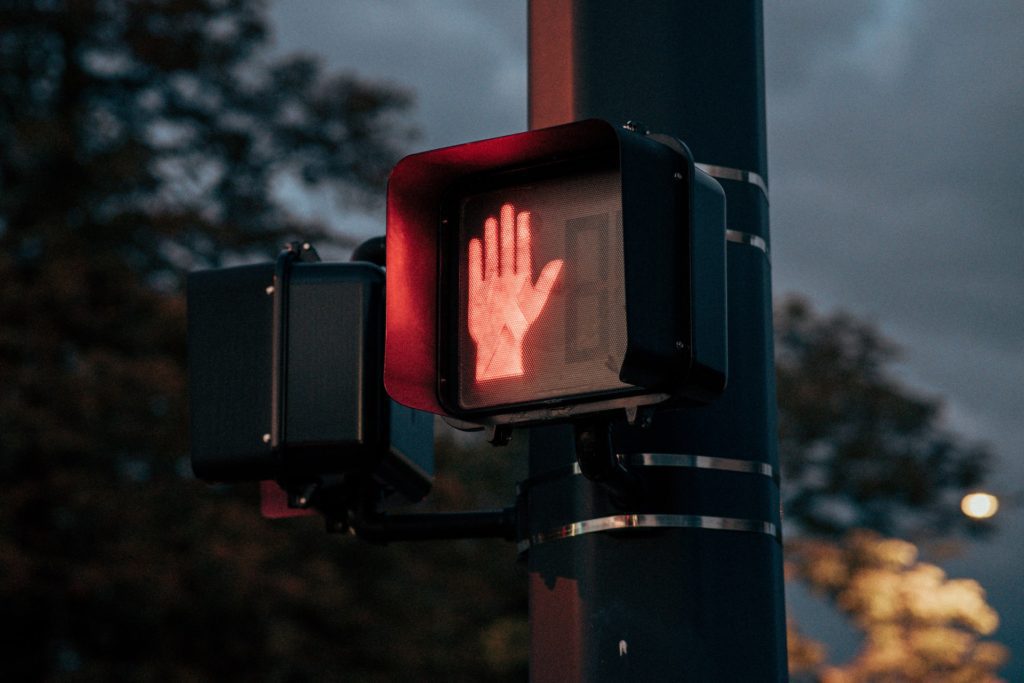 As the winter months arrive, the sun sets earlier and earlier, and come November when the time changes, the sun goes down before 5:00 pm, with twilight by 5:30. When darkness falls early, the risks of an accident increase, whether as a pedestrian, cyclist, motorcyclist, or vehicle driver. It is important to be aware that the risks are higher when it is dark outside. Taking certain actions can be helpful in staying safe.
Daylight Saving Time and Accidents
In 2018, voters passed Proposition 7 to end Daylight Saving Time, but the California Senate has not passed the measure, so we can expect early darkness to continue for the time being. Accidents occur far more frequently when it is dark. The NHTSA (National Highway Traffic Safety Administration) reports that the fatality rate is three times higher during the dark hours of the night. Drivers and pedestrians are at far higher risk of being seriously injured in dark conditions. To protect yourself and your family from being involved in a serious or fatal accident, follow these rules:
Slow Down
When driving at night, reduce your travel speed. It is more difficult to see road hazards ahead or be aware that the traffic ahead has come to a sudden stop.
Leave Room
Leave a longer distance between your vehicle and the vehicle ahead to allow you to come to a stop without impacting another vehicle.
Avoid Distractions
During the night hours in the winter, distracted driving becomes even more dangerous. Avoid talking on the phone, adjusting in-vehicle systems while driving, and never text while driving, no matter what time of day.
Be More Alert to Pedestrians and Cyclists
People walking may be wearing dark clothing and are far more difficult to see at night. The risk to pedestrians is very high during this time of year. If planning on walking, wear visible clothing, and double check before crossing any intersection.
Drive with Increased Caution
You should always drive defensively, but during the winter months, it is vital that you operate your vehicle with increased levels of caution, as not all drivers are careful. You may encounter drivers who weave from lane to lane, speed, or take risks that could lead to a serious or fatal accident.
Who is at Fault?
If you were involved in an accident during the darker hours of the evening, sustaining serious injuries, you have the right to pursue compensation from the at-fault driver. The first step is to determine liability. This may involve reviewing the police report, accident investigation, interviewing eyewitnesses, and reviewing images of the collision, as well as skid marks on the street and the damage to vehicles. Once the responsible party is identified, a claim or lawsuit can be filed to seek fair compensation for all damages.
What Damages Can I Recover?
The damages sought in an insurance settlement or lawsuit will include financial losses associated with medical care, rehabilitation, medications, transportation, lost wages, reduced earning capacity and other hard costs. The non-economic damages are a dollar value put on the pain and suffering, emotional anguish, and loss of quality of life that resulted from the accident.
Do You Need a Santa Ana Injury Attorney?
You may not be aware of the importance of legal representation from a skilled Santa Ana personal injury lawyer in cases of serious or fatal injuries. A layperson does not have the experience or knowledge to seek all types of compensation that could be awarded and could accept a settlement offer that is far too low. You have the right to be compensated for the negligent actions of another driver, and the right attorney will value your case correctly.
Why Choose Us?
At HN Injury Lawyers, we offer a free consultation with no time limit. We work on a contingency fee basis, with no legal fees unless we are successful. We have a combined experience of almost 50 years, and as trial lawyers, have served at over 100 jury trials. One of our legal team, Mr. Hess, is a member of the Multi-Million Dollar Advocates Forum and named in "Top 40 under 40."
Contact HN Injury Lawyers Today at (657) 333-5726 for a free initial consultation.
Categories