blog home Car Accidents What is Whiplash?
What is Whiplash?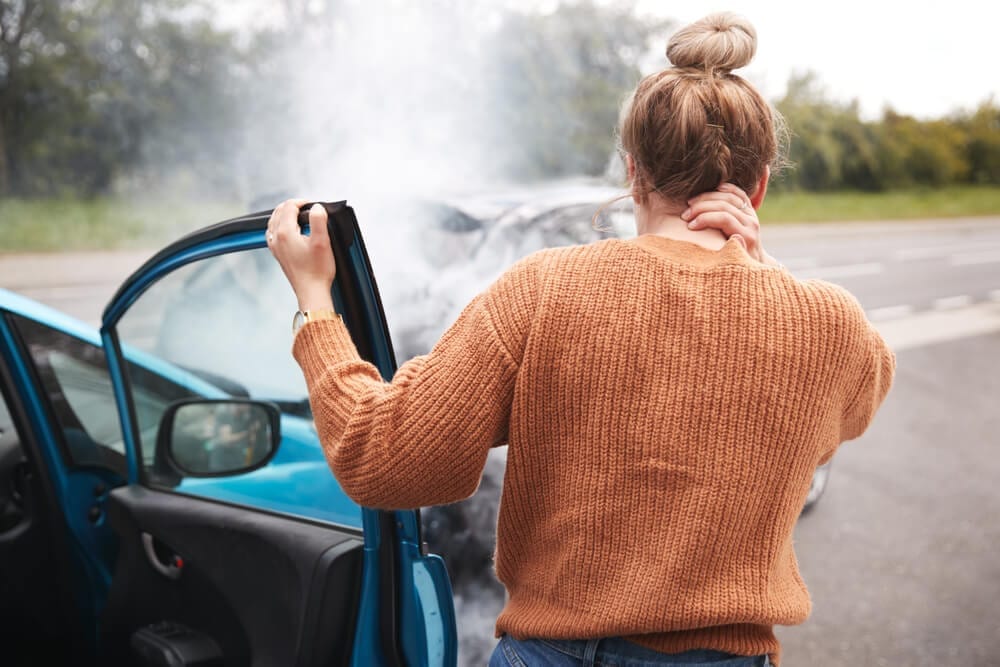 If someone you know was in a car accident in the past, you may have heard the term whiplash. Although it's a common injury, not many people understand what it is and the implications it can have on their life. Speak with a Santa Ana neck pain injury lawyer.
Whiplash, also known as a neck strain or sprain, can occur if the head jerks in a rapid forward or backward motion. Symptoms often vary widely, depending on the severity of the injury and what caused it. Typically, your neck pain and stiffness will dissipate in a few weeks. Guided stretches initiated early on can help increase healing and decrease pain. Whiplash-related disorders sometimes have symptoms that continue long-term. If you suffered an injury in an accident, the experienced Santa Ana neck injury lawyers at Hess & Nghiem understand your pain and are here to help.
The Mechanics of Whiplash Injuries
Although usually tied to motor vehicle accidents, whiplash injuries can also be caused by other incidents such as a severe slip and fall, sports injuries, or even violence. This is because the mechanics of the neck are similar in all of the situations. Any force that causes the head to jerk or lurch suddenly, either backward or forward, has the potential to cause whiplash. Delicate tissues connect the head to the neck, and when sudden and forceful motion occurs, they are easily damaged.
Symptoms of Whiplash
Different people can experience whiplash to varying degrees with a variety of symptoms. What's essential to remember about whiplash symptoms as they don't always show up right after the event that caused the injury. Sometimes, a person can feel fine or slightly sore for several days before noticing any whiplash symptoms. These can include:
Neck pain

Back or shoulder pain

Stiffness in the neck 

Difficulty turning the neck

Muscle spasms in the back, head, neck, or shoulders

Headaches

Fatigue 

Anxiety 

Memory issues
You should always see a doctor after a car accident or another incident that could lead to injuries. If you suspect you are hurt, Santa Ana neck pain injury attorneys can help you pursue compensation.
Diagnosing Whiplash
It's important that any accident injury is well-documented by medical professionals; the same is true for whiplash. This documentation will help support your claim so that you can be fairly compensated. Doctors can generally diagnose whiplash with a physical exam and by asking questions about your injury. If necessary, they might also use CT scans or magnetic resonance imaging (MRI) to observe the soft tissues. When you meet with Santa Ana soft tissue injury attorneys about your injuries, be sure to discuss how your whiplash was diagnosed.
Meet with the Seasoned Santa Ana Neck Pain Injury Lawyers at Hess & Nghiem
Whiplash can be a debilitating and painful injury, sometimes lasting several weeks or more. If you were in an accident or intentionally harmed, which led to such an injury, you deserve financial recovery. Make it a priority to book your case review today with the seasoned Santa Ana neck pain injury attorneys at Hess & Nghiem. Call (657) 333-5726 or connect with us online today.
Categories